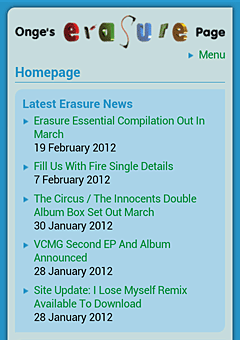 Do you own a fancy smartphone? Well from today should you use said smartphone to view this very site, you will now access a mobile optimised Onge's Erasure Page.
The mobile site has been designed to be easier to use on small screens as well as faster to load than the desktop version. Traffic to this site from mobile devices is on the up so it makes sense to offer a slicker site to these users. But should the mobile site not be to your liking, there is the option to switch between the mobile and desktop sites on your phone should you wish.
I think I'm right in saying this site is the first Erasure site to "go mobile". So, what do you think of the mobile site? Any suggestions on how to improve it? Please feel free to leave your comments below.