Biography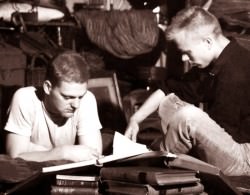 Erasure are a British duo, comprised of synthesizer genius Vincent Clarke and majestic vocalist Andrew Bell. After forming and having success with the bands Depeche Mode, Yazoo and The Assembly in only a few short years, Vince was once more looking to start another musical project. He placed an advert in the now defunct British music newspaper Melody Maker with the headline of "versatile voice wanted" and on 23rd March 1985 auditions were held in London. Peterborough born 21-year-old Andy Bell was the 36th auditionee and thanks to his falsetto rendition of Who Needs Love (Like That), a rather soulful performance of the Vince/Paul Quinn track One Day and a lack of talent from the others that auditioned, Andy landed the job.
Andy was relatively new to the music industry, with a stint in a band called Dinger (named after Andy's surname inspired pseudonym) the only previous experience on his CV. This did not deter Vince, even after their debut album Wonderland flopped miserably in the UK charts. The album, nor any of it's three singles, broke into the top 40 and Andy feared his career working with Vince could already be coming to an end, especially with Vince's history of previously short-lived projects. Lingering in the chart nether-regions was new territory for Vince, but undeterred, the band set about working on their next album. And what a decision that turned out to be - as soon as the distinctive woahs of Sometimes hit the airwaves Erasure exploded into the charts - and the band never looked back.
"

I took out an ad... and chose a guy called Andy Bell who I think is quite brilliant.

Vince, April 1985

"
Sometimes spent over four months in the UK Singles Chart, second album The Circus spent over two years on the UK Albums Chart and was home to three more top 15 singles. With Erasure now established chart acts, the pressure was on to keep the momentum going. Never one to rest of their laurels, the boys went back to the studio with prolific producer Stephen Hague and in April 1988, just over a year since the release of The Circus, Erasure released The Innocents - an album regarded by many as their magnum opus.
The Innocents was certainly their most commercially successful album; it went triple-platinum in the UK and spawned a string of hits, including Chains of Love and A Little Respect which both reached the top 20 in the US Billboard Chart. This was followed by the UK success of the Crackers International EP which peaked at #2 and established Erasure as one of the 1980s most successful and prolific acts. Their following album Wild! went straight to number one in the charts and was also home to the single Blue Savannah which won an Ivor Norvello award as well as peaking in the top 5 of the UK charts.
"

This record shocked everyone with its mature lyrics, stellar songwriting and brilliant instrumentation.

The Innocents

Yahoo! album review

"
The early nineties was Erasure's golden era. Chorus was Andy and Vince's third successive #1 album and finally the boys landed a coveted number one single with their ABBA-esque EP. Indeed the collection of ABBA covers was the only single in 1992 to enter the charts at number and stayed there for five weeks. It also began the resurgence in popularity for the Swedish quartet (who at the time were largely considered to be a musical act with little modern-day relevance), something that is still going strong to this day.
But Erasure aren't just about their records - by now the band had built up a reputation as being must-see in the live arena. The following Phantasmagoriacal Tour was a sell out with one concert being broadcast live on BBC Radio 1, the nation's most popular radio station. On stage, Andy and Vince couldn't be more bipolar; Vince keeps much to himself behind his army of synths, whilst Andy camping it up to the audience in his extravagant, HI-NRG way.
"

When a concert begins with a man in a white ostrich feather jacket and high-healed pumps being wheeled out in a giant swan coach, and, during two acts and nearly three hours, grows exponentially more flamboyant how do you do the spectacle justice with mere words?

Newsday concert review, 1992

"
1992 also saw the release of the band's first greatest hits compilation Pop! - The First 20 Hits which sold by the bucket load and went triple-platinum. Two years later saw the release the release of I Say I Say I Say, which became Erasure's fifth successive number one album as well as the transatlantic hit single Always, which was a top 5 success in the UK and a top 20 hit in the States. But this was to mark the end of the band's heady non-stop appearance in the upper reaches of the charts. As the decade progressed, and with the airwaves of the time being dominated by Britpop trash, Erasure increasingly found themselves struggling to emulate their previous chart successes. Concerts were still big hits, including a worldwide tour in 1997, but albums Erasure and Cowboy both flopped despite being home to some of their finest work.
In 1998, Andy was diagnosed HIV+ and Erasure very much took a back-seat as Andy privately came to terms with the state of his health. Indeed, news of Andy's condition was not publicly disclosed for many years. After a three-year absence the boys released the much-maligned Loveboat which with it's edger, more acoustic feel, sank without trace shortly after its release in 2000. The writing looked on the wall for Andy and Vince. Indeed some parties were encouraging the band to cut their loses and call it a day all together.
Vince took time out working on many side-projects outside Erasure, whilst Andy relaxed in Spain after nursing his long-term boyfriend through a stroke. It looked as if the doom mongers could be right after all. But Erasure were not to be consigned to history just yet and returned to their rightful place in the top 10 in 2003 with their rendition of Peter Gabriel's Solsbury Hill, taken from an album of cover versions called Other People's Songs. Then followed a mini Erasure revival, with the band enjoying a successful international tour, their first for six years, and renewed media attention which prompted their record label Mute to release another greatest hits package called Hits! – The Very Best Of Erasure to celebrate this fact. A year later Vince got married and moved to America to start a family with his wife, but this wasn't going to get in the way - in 2005, Erasure started their twentieth year together with the release of a brand new album entitled Nightbird which also returned the boys back into the top 5 of the UK Singles Chart with Breathe peaking at #4. It was like they'd never been away.
"

Let's face it there is nothing Kraftwerk did that Erasure didn't do better, for longer, and while wearing a blue sequinned cowboy hat and chaps.

The Times, 2005

"
As the noughties concluded the releases kept coming with the acoustic unplugged album Union Street as well as album Light At The End Of The World. 2009 saw the releases of the comprehensive Total Pop! - The First 40 Hits compilation - never has a more definitive collection of quality pop music from one artist seen the light of day. Andy followed up his 2005 debut solo album Electric Blue with the dance-floor friendly Non-Stop. Initially released under a pseudonym, the early singles from the album got Radio 1 airplay, implying that Erasure are often overlooked by radio stations because of their name rather than their music. Once the cat was out of the bag, the future solo singles were released under Andy's name, but this time these tracks were absent from the the Radio 1 airwaves. Quelle surprise.
Despite their highs and lows, and laughable prejudices again them, Andy and Vince are committed to keep on doing what they do better than anyone else: writing timeless, classic pop music. The passion for working together is still there – album Tomorrow's World and a world tour in 2011 now means Erasure's back-catalogue spans four different decades, and 2013's Christmas themed album Snow Globe showed the world how to record festive songs in a unique and interesting manner. Not bad for a band so readily dismissed as disposable by much of music press is it?